pester pac automation recognized again as one of the top 100 employers in Germany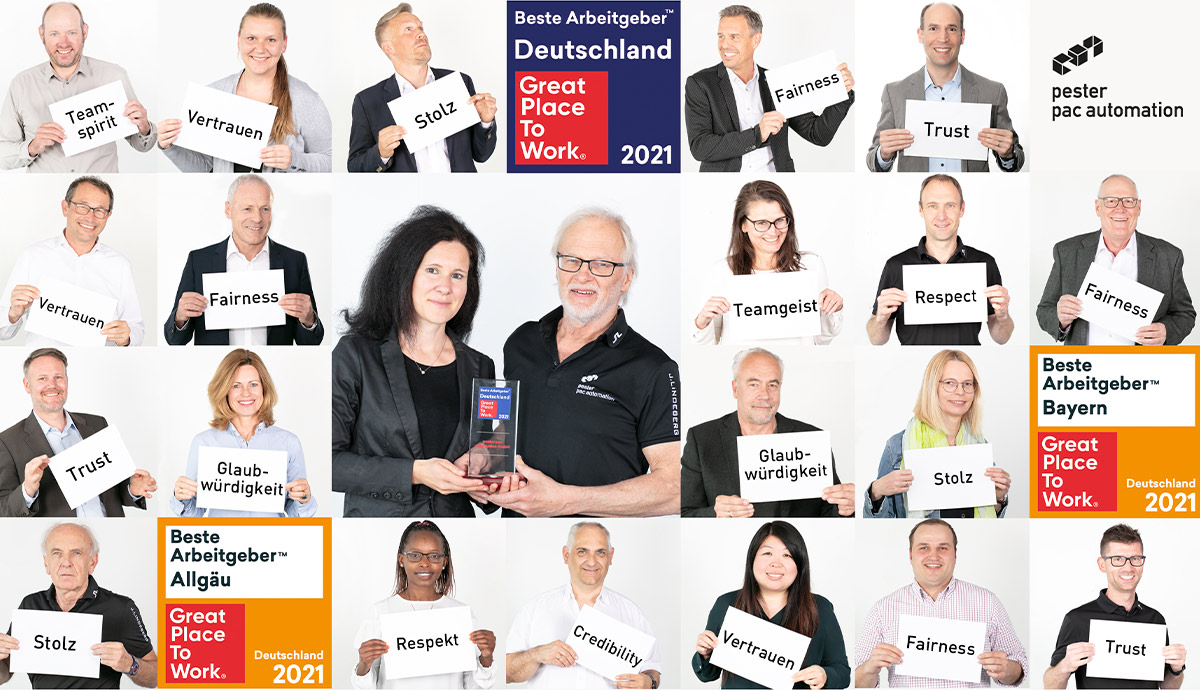 07.05.2021 - pester pac automation is one of the winners in this year's Great Place to Work® competition "Germany's Best Employer 2021". Pester took
17th place
in the category for companies with 501 to 2,000 employees and ranks among Germany's top 100 best employers. In total 684 companies have been taken part in this competition.
The award is presented to companies that, from the point of view of their employees, offer a particularly attractive corporate culture and motivating environment. This accolade stands for special commitment in creating good working conditions.
After participating for the first time in 2015, Pester is again recognized in 2021 for its employer attractiveness in the following four competitions in the internationally proven Great Place to Work® program:
Germany's Best Employer 2021: place 17th (501 to 2,000 employees)
Bavaria's Best Employer 2021: place 8th (501 to 1,000 employees)
Allgäu's Best Employer 2021: place 1 (from 50 employees)
Great Start! – Certification as an outstanding apprenticing company. This award was presented for the first time in 2021.
A total of 92 percent of pester pac automation employees recommend the company as an attractive employer in the employee survey. From the viewpoint of the workforce, Pester has a particularly trustworthy, respectful, and desirable workplace culture. With a 'Trust Index' of 84 percent, Pester ranks among the top five percent of all companies interviewed in the overall rating of its size class.
"We are delighted that our employees have rated Pester's workplace culture very well again in this year's survey and that we were able to improve in all categories," says company owner and CEO Thomas Pester. "Especially at such a critical time as this, we are proud of our corporate culture and strong Pester team spirit. That's why we particularly appreciate achieving the Great Place to Work® award for a second time."
"The award stands for a workplace culture that is characterized to a high degree by trust, pride and team spirit," says Andreas Schubert, Managing Director at the Great Place to Work® Institute. "An attractive corporate culture that promotes commitment and innovation is central to economic success and mastering important future tasks, especially in the current Corona situation."
"This further Great Place to Work® award honors our trusting, appreciative and attractive corporate culture," CEO Thomas Pester emphasizes. "This commendation is the result of future-oriented HR work at Pester, and a company philosophy that fosters an agile and modern workplace culture. Both are key to motivating and retaining our employees, and therefore to the economic success and future viability of our company."

About Great Place to Work®
Great Place to Work® is an international research and consulting network. In over 100 countries around the world, it supports the creation of an attractive and future-oriented workplace culture.
www.greatplacetowork.com
.