pester pac automation receives "Great Start!" Award as an outstanding training company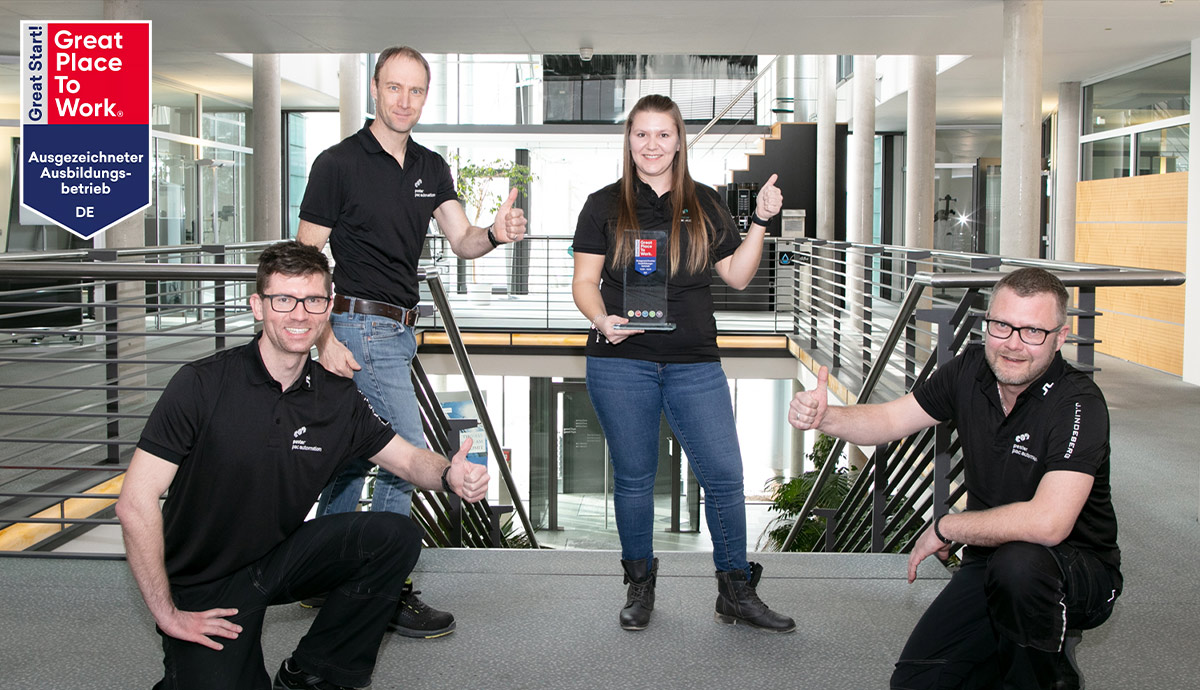 The four training managers proudly present the Great Start! certification as an excellent apprenticing company awarded to Pester by Great Place to Work®. Andreas Maier (rear left) and Chris Berghausen (front right) are responsible for industrial training (pictured front left) is David Lohr, Instructor in mechatronics and industrial electronics and Andrea Schreier (rear right) supervises the commercial training.
28.04.2021 - pester pac automation has been certified by Great Place to Work® as a particularly good training company. 2021 is the first year the award has been given.
The overall satisfaction rating of 98 percent based on the statement "All in all, I can say that this is a very good place to work" is overwhelming. "We are absolutely delighted that our apprentices have rated us so well in the anonymous survey and are particularly proud that our result is 11 percent above the industry average," says Uschi Gundel, Director of Human Resources at Pester. The international research and consulting institute's "Great Start!" Certification stands for special commitment in the design of in-company vocational training and is awarded according to a secure procedure.
Constituents of the survey are anonymous feedback from the apprentices and an analysis of the measures, tools, and programs that a company uses to design its training.
"Good training places provide invaluable benefits," says Timo Haas, Manager of "Great Start!" Certification at Great Place to Work®, "Not only high professional standards, but the appreciation and support felt by the trainees."
For the four training managers for industrial and commercial professions at Pester, the award is a great recognition of their work: "We see this as special appreciation of our team spirit and the culture in the company, and it boosts our motivation for future training work."
Your applications for our training year 2022 are welcome until August 31, 2021.
Further information for apprentices and apprenticeships at
https://www.pester.com/en/career/career/trainees/
Our trainers are happy to answer any questions you may have about training at pester pac automation at
https://www.pester.com/en/career/career/trainees/#ourtrainers
About Great Place to Work®
Great Place to Work® is an international research and consulting institute which supports companies in around 60 countries in developing their corporate and workplace culture. A trust-oriented and powerful corporate culture not only ensures motivation and loyalty on the part of the employees, but also strengthens the economic performance of a company. It significantly contributes to successfully mastering change processes such as digital transformation or demographic change. Every year, Great Place to Work® honors very good employers internationally, nationally, regionally, and branch-specifically for their performance on the basis of anonymous employee surveys and an analysis of the corporate culture. The German institute with its location in Cologne was established in 2002 and employs some 90 people:
www.greatplacetowork.de