Pester employees raise funds for the Children's Hospice St. Nikolaus in Bad Grönenbach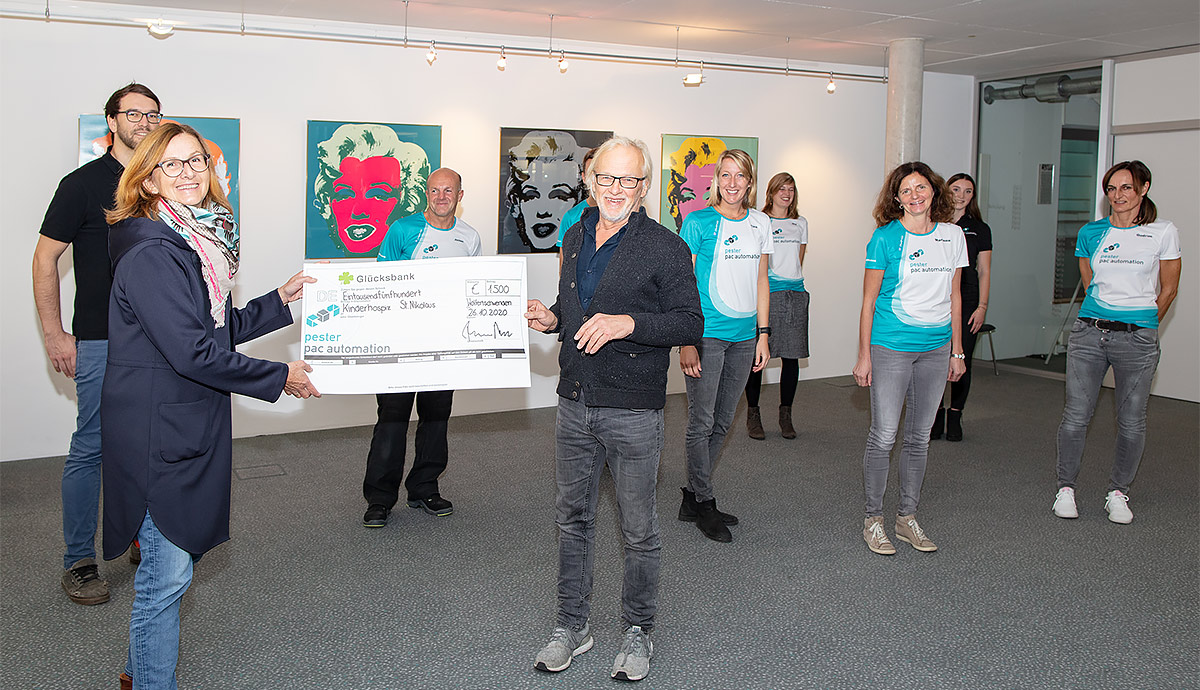 Brigitte Waltl-Jensen, responsible for public relations at Kinderhospiz Allgäu e.V., is delighted to receive Pester's employees' donation presented by Thomas Pester CEO (center) and Pester's Children's Hospice running team.
29.10.2020 - Social responsibility and regional social commitment have always played an important role at pester pac automation.
Since 2013, Pester employees have regularly taken part in the annual charity run for the Children's Hospice St. Nikolaus in Bad Grönenbach, paying their contribution towards community service. The local Children's Hospice St. Nikolaus is the only residential facility in Bavaria and looks after children with incurable and life-shortening diseases and their families by providing individual life guidance, terminal care and grief counselling. Unfortunately, this year's charity run in Bad Grönenbach was canceled given the Covid-19 situation.
Pester's employees therefore took this as an opportunity to initiate their own fundraising campaign for the children's hospice. After appealing to company members for donations, a respectable sum of 900 euros was raised. Thomas Pester increased the donation to 1,500 euros.
On 26 October, Thomas Pester symbolically presented a donation check to Brigitte Waltl-Jensen who is responsible for press & public relations at the Children's Hospice St. Nikolaus. "We would like to thank Pester and its company members whose donation will further help us to carry out our everyday work for the families affected. Due to the Corona situation, almost all our benefit events were canceled this year and so donations are even more welcome. Our work is largely financed by donations. They enable us to provide families with individual life guidance, terminal care and grief counseling and to offer children therapies such as horse-riding, music or swimming.
"We are particularly committed to assuming social responsibility and regularly supporting nonprofit organizations like the Children's Hospice in Allgäu," Thomas Pester explains. "Our donation is a contribution to the invaluable work of the hospice, as one of the major social facilities in our area."
The Pester running team is already getting ready for the hospice's next year's charity run on 19 June and is training hard in the meantime. The Children's Hospice invites all Pester employees to take part in their event 'Das Kinderhospiz St. Nikolaus leuchtet' [The Children's Hospice St. Nikolaus shines a light] on November 22. Instead of their canceled open house day, 629 lamps will shine a light for each family they have supported (
www.kinderhospiz-nikolaus.de
).