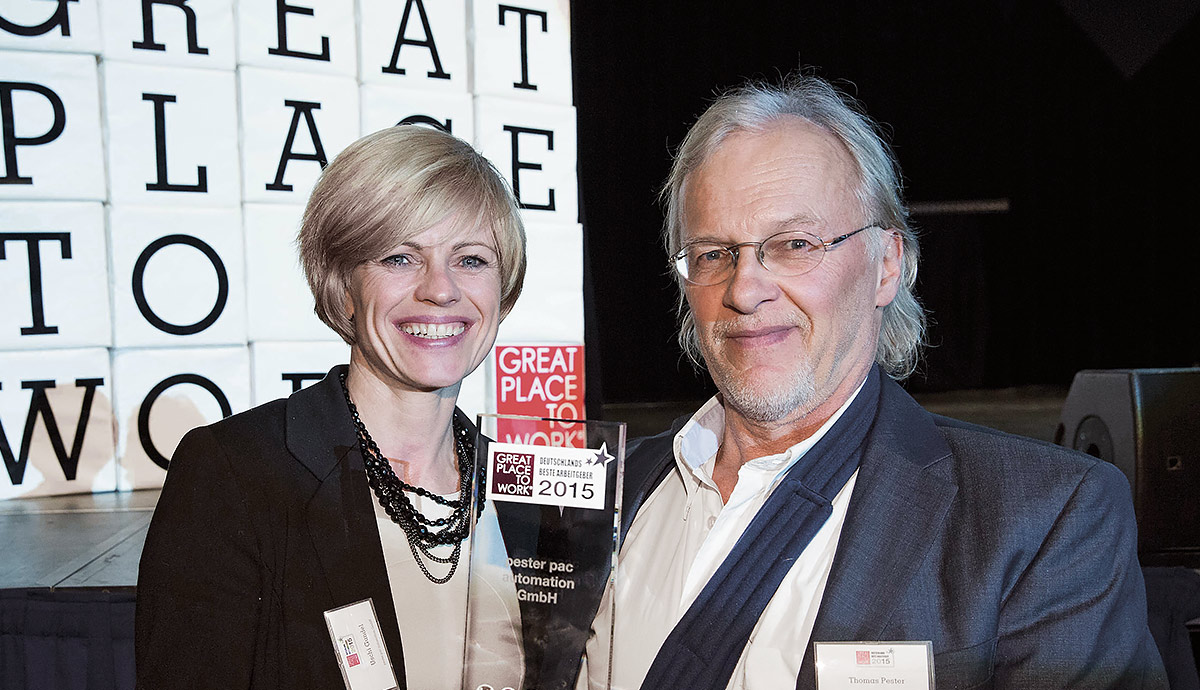 Human Resources Director Uschi Gundel and
Managing Director Thomas Pester receive the
"Germany's Best Employer 2015" Award in Berlin.
05.03.2015 - Excellent workplace culture as a competitive advantage

92 per cent of pester pac automation's employees consider their company to be an attractive employer they would recommend. From the viewpoint of the workforce, Pester has a particularly trustworthy, respectful, and desirable workplace culture. As such, pester pac automation reached 29th place in the "500 to 2000 employees" category in the nationwide Great Place to Work® competition for Germany's best employer, and ranks among Germany's top 100 best employers. In the competition "Bavaria's Best Employer 2015" Pester achieved 7th place in the category "Companies with 501 to 1000 employees". Pester was already awarded "Best Employer in Allgäu 2014" in September last year.

"A work environment characterized by pride and team spirit enhances the sustainability of a company and gives it an advantage in retaining qualified employees," the Great Place to Work® coordinators underlined during the award ceremonies in Berlin in March 2015 and Munich last April. pester pac automation's HR Department can certainly confirm this. "Since the awards were published, the number of unsolicited applications has risen significantly," HR manager, Uschi Gundel was pleased to report. "As a middle-sized family business, we are proud to find ourselves among the best employers in Germany and Bavaria," said a delighted Thomas Pester, Company Director. "This award honors our commitment in employee-oriented human resources and management work." The company is not going to rest on its laurels, though. Thomas Pester emphasized: "This competition has shown us where we stand and where we also need to make improvements." The results of a previous anonymous survey among the company members on matters such as trust, vocational development, identification, team spirit, health promotion and work life balance are seen as basis for further improvements.

The international consulting and research firm Great Place to Work® was founded in 1991 and is active worldwide in 50 countries.